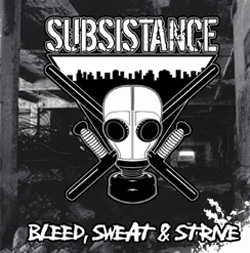 When I first popped Subsistance's album Bleed Sweat and Strive into my CD player, I quickly found myself enjoying every morcel of great music this CD had to offer. Subsistance is known for their relentless live performances and this disc is no exception to the rule. Beginning with the short and simple track Network Assault, it's fast-paced and has a sense of urgency and sincerety rarely found in today's crop of bands that drew me in immediately. They sound extremely powerful as only a 3-piece band, and the guitar, bass and drums work unbelievably well together to create a sound that is greater then it's parts, incorporating perfect fret-board magic, tight drumming, perfectly-placed breakdowns and great shout-along choruses.
The band hails from Montreal in Canada, and the french influence can be heard on their two songs written in french, Lacrymogène and 6 decembre 89 (Cassus Belli). Without these songs however, it would be near-impossible to tell that french is their main-language as the majority of their songs are written in english, and come across flawlessly as intelligent and well-flowing.
Lacrymogène, Keep up the Fight and Quiet Revolution are definitely my favorites from this CD, with a perfect amount of shout-alongs, tight instrumentals and thought-provoking lyrics. If you're a fan of 80's hardcore, or good music in general, pick this one up off of www.interpunk.com, www.anger-distribution.com, www.soundcentralstore.com, or off of the band themselves.